info@sandwichpanelmachines.com

EPS sandwich panel line
Sandwich panel is a new multi-function construction material for construction and decoration with the advantage of insulation, fire proof and decoration. It is mainly used for public construction, like industrial workshop, supermarket, bulk warehouse, large span roof, and prefabricated house, different kinds of cold storage, air condition room, decontamination chamber, and communication base station.etc. Sandwich panel has been an ideal new construction material with the advantage of high intensity, beauty, easy to construct in a short time.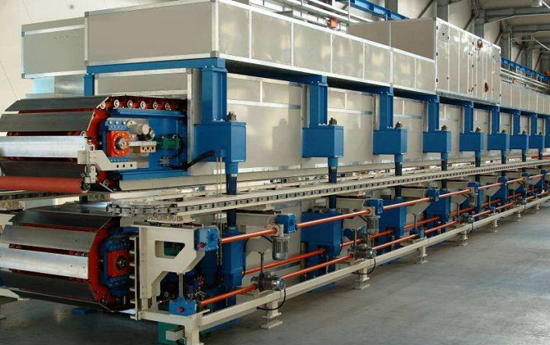 Roof panel forming machine adopt the gear reducer to transmit, motor power is 5.5KW, and processing speed is 5.5m/min. The processing speed can be adjustable by step less speed frequency conversion.
Assemble machine adopt the gear reducer to transmit, motor power is 3KW, and processing speed is 6m/min. The processing speed can be adjustable by step less speed frequency conversion
Normally processing EPS sandwich panel, the speed is 2.5-6m/min, rock wool, glass wool sandwich panel processing speed will be lower than 1.5-3m/min.
The whole line speed was controlled by the motor synchronous controller, with step less speed and digital display.
Technical Datas of EPS Sandwich Panel Line:
| | |
| --- | --- |
| Raw material | color coated steel coil |
| Coil weight | Max 5 ton |
| Coil width | 1,000-1,250mm |
| Coil thickness | 0.4-0.7mm |
| Panel length | 3-15mm |
| Panel width | Max.1,200mm |
| Panel thickness | 50~150mm |
| Temperature of factory | 18+-2°C |
| Density | EPS:10-21 kg/m3 -Glass wool: 48-64 kg/m3 -Mineral wool:100-120 kg/m |
| Inner height of building | 6m |
| Production Capacity of this Production Line | 5-7m/min |
| Required man power | 3-5 person |
Main parts of EPS Sandwich Panel Line:
Roof panel and hidden wall roll forming machine
Roof sandwich panel is widely used for roof panel. Roll forming machine is mainly to form the steel sheet to corrugated type. Then with the sandwich panel down panel feeding to the assemble machine. Hidden wall is widely used for wall panel, with the advantage of beautiful and hidden screw function.
Technical Data of Roll Forming Machine: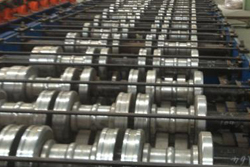 Type of uncoiled: Manual
Material of coil: Color coating coil
Thickness of coil: 0.4-0.8mm
Width of coil: Max 1200 mm
Weight of coil: ≤ 5 t
Inside diameter of coil: 480~520mm
Type of forming: Two layer forming
Stands of forming: 14 stands bottom layer
12 stands top layer
Roller diameter: ¢72mm、¢80mm
Material of roller: 45 steel heat treatment
Thickness of chromic plating of roller surface: 0.05~0.06mm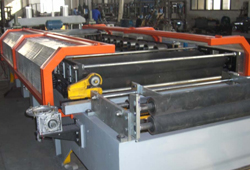 Speed of forming: 10~15m/min synchronies with panel machine
Type of synchronies: Electrical synchronies
Driven power: 3.0 kW
Installation instruction: Two parts
Size of forming machine: 11000×2200×2200mm
Weight of forming machine: 12t
Roller Forming Device for C Channel
Umbers of forming device: 2 sets
Speed of forming: 0~6.0m/min synchronies with panel machine
Type of synchronies: Electrical synchronies
Roller diameter: 150 mm
Thickness of composite rubber layer: 10mm
Hardness of composite rubber layer: 60
Number of rollers: 26
Assemble Sandwich Panel Machine
Assemble machine is include machine frame structure, with totally up, down and inner side three unit roller frame. Every roller attached with several piece of rubber roller. Up and inner side rubber roller is horizontal, down rubber roller is corrugated type and fixed. Clamping height and tension can be adjusted by the up rubber roller. Inner rubber roller can be adjusted depends on the panel .If process the flat panel, the inner rubber roller can reach the highest point, which can ensure the rubber roller and the down rubber roller in the same level.
If process corrugated sheet, the inner rubber roller will be down to the lowest point, to make the rubber roller lower 40mm than the down rubber roller.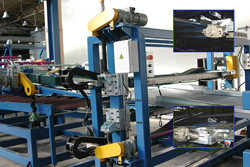 Assemble rubber roller diameter is 150mm, rubber coating thickness 10mm,hardness 60 with 26 rollers.
Un-coiler is on the assemble machine up and down side. Brake system adopt clutch disc method, by adjusting you can change the up and down steel sheet tension.
Spread glue device
The assemble line adopt the measuring pump to feed the glue .The down steel panel spread the glue well-proportioned by the droplet of glue tube .Then through the spread glue structure (spread glue speed:80 times/min)to be well proportioned the two kinds of glue. Up steel sheet spread glue well proportioned by the up glue spray system.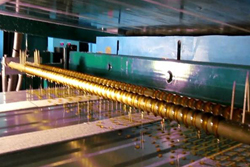 Numbers of pump: 4 sets (top and bottom each 2)
Driven power: 0.37 kW
Flow volume of glue: 0 ~0.4 kg per pump
Type of flow volume control: Change frequency
Scale of glue: (white)1: (Black) 1.5
Belt Cutter of Sandwich Panel Machine
Two methods of cutting:
Manual : Press button by hand then cut.
Automatic: Adopt rotary encoder, touch screen and PLC to remember length and Number. You can set 10 series
Different length and number sandwich panel. Also it can be recycled.
Cutter cutting adopt the frequency conversion, the saw can achieve different speed.
During the continuous processing, it is very necessary to cut the finished panel with high precision. Our machine adopts the synchronous controller to control the cutting frame to achieve the machine with the finished panel relative static cutting. The band saw cutting clamp and tension rotate was controlled by the PLC to control pneumatic and hydraulic system.
Specifications of Belt Cutter:
| | | | | |
| --- | --- | --- | --- | --- |
| Panel shape | Thickness(mm) | Width(mm) | Core thickness(mm) | Core width(mm) |
| EPS/rock wool Z-lock wall panel | 50-250 | 1000/1200 | 49-249 | 950/1150 |
| EPS/rock wool Z-lock roof panel | 50-200 | 1200 | 49-249 | 950 |
| EPS/rock wool hidden wall panel | 50-250 | 1200 | 49-249 | 1100 |
Finished panel cutting
Movement of cutter: 1800mm (cylinder distance)
Type of operating: Touch screen
Overall weight of cutter: About 1.5t
PU Sandwich Panel Line
Roll Forming Machines
Sandwich Panel Line
3D Wire Panel Line