info@sandwichpanelmachines.com

Discontinuous PU sandwich panel
The product line is consisted of the press and the rail stands. Two worktables are to move into the press and the other two stay on rail stands. Initially, put the top and the bottom facing sheets inside of mould frames and then do the necessary sealing work. After that, feed the worktables into the press. When worktables inside the press moves out orderly, the other two feed in at the same time. Upon the finish of feeding, the press will close and slant at a angle, waiting for the injection PU raw materials from the PU mixing head into different panels. Meanwhile materials start foaming and curing. At this time, mould frames on worktables moved out can be opened and the finished products can be unloaded to get ready for next production cycle.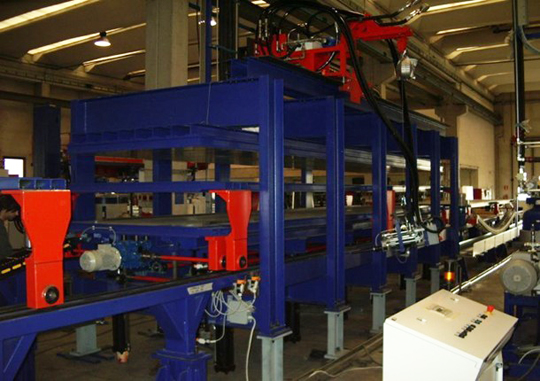 Advantages of Discontinuous PU Sandwich Panel:
Panels are produced faster than conventional ones: demoulding times are 30-35% shorter.
The average distribution foam - at equal overall density - is better than in conventional panels.
Scrap parts - and all relevant disposal or repairing costs - are virtually eliminated nice and clean quality panels are supplied, with very high mechanical properties and state-of-the-art insulation efficiency.
Technical Datas of Discontinuous PU Sandwich Panel:
| Raw material | Color coated steel coil or Aluminum sheet |
| --- | --- |
| Coil thickness | 0.3-0.8mm |
| Coil width | 1060-12500mm |
| Line speed | 1.5~12m/Min |
| Core density | About 40(Kg/m2) |
| Panel length | 1~12mm |
| Panel width | 1,000mm |
| Panel thickness | 40~150mm |
| Foam system | PU or PIR rigid foam |
| Foam density | approx 35~45 kg/m3 |
| Inner height or building | 6m |
| Thermal conductivity | 0.018 – 0.020(W/m°K) |
| Tensile strength | 300–500 (KP a) |
| Water vapor transmission | 1.8-3.8(Perm-in) |
| Bending strength | 550–560 (KP a) |
| Stable operating temperature | -40to+50(°c) |
| Required man power PU line | 4-6 workers |

The Applications of Discontinuous PU Sandwich Panel:
Discontinuous polyurethane production line is widely used in steel structure workshop, steel villa, housing, supermarkets, air duct and public places.

Details of PU Sandwich Panel:

Main Machines of PU Sandwich Panel Line: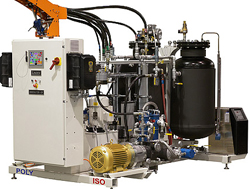 PU foam machine:
Production capacity of this production line: 3-8m/min.
Panel width: 800-1000mm, panel thickness: 30-150mm.
Total power: about 150kw
working pressure on pouring foam: 150-200bar (high pressure foaming)
| | |
| --- | --- |
| Mixing ratio | A:B=1:1 Or in accordance with technical requirement |
| Range of through put (gms/sec) | 5~1000 scales in total, see throughput list for details |
| Volume of loading tank (L) | 40~300 ( 40, 120, 150, 220, 300) |
| Revolution of mixing head (rpm) | 3500-4500 |
| Program-controlled points | 12 40 points or 200 points if on request |
| Viscosity requirement (CPS) | <2000 |
| Temperature adjusting range(℃) | -40+40 |
| Total power (kw) | 9~18 6kw for heating |
| Assembly of mixing head | by arm or crane |
PU Sandwich Panel Press Machine: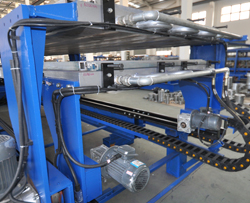 The processing polyurethane foaming that injected into panel and solidified, can simultaneously be in load and unload working, so called "two in and two out".
Length of panel: 6-12m
Width of panel: 500-1250mm
Thickness of panel: 40mm-250mm

Size of the line:
overall length of the line :38000mm
overall width of the line : 4500mm(max)
overall height of the line :2200mm
overall weight of the line:~25 t
Overall power equipment: 60 kw
Production capacity of this production line: 3-8m/min.

Operating press:
put one piece of cut flat steel sheet on the moulding frame, another piece of steel sheet down the moulding frame.
Inject PU foam into the closed moulding frame with the aluminium edge mould,
After 10-30 minutes (according to PU material and operation experience), lift the press, move the moulding frame, then get the PU sandwich panel.
Use electrical motor to control lifter of the moulding.
We provide automatic moulding with electrical control (electrical button, not PLC). The thickness of the sandwich panel can be adjusted. Steam pipes are fixed for heat preservation on the press machine.
Temperature of steam is 40-45 degrees.
Steam bank and steam boiler should be prepared by buyer.
Size of flat PU sandwich panel: 12m*1.25m*(50mm-200mm)
Size of moulding machine: 7.5m*2m*2m
Power: 10kw
Capacity: 2-6pieces/h
Workers for moulding machine:3- 4 persons.
Forming Machine of Discontinuous PU Sandwich Panel:
Specifications of Discontinuous PU sandwich panel: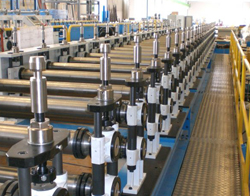 Wall panel main motor power: 11kw;
Linear speed of forming machine: 0-8m/min(step less speed regulating);
Material of roller: 45# steel;
Width adjusting of flat panel forming machine: linear guide rail, lead screw and gear motor electrical adjusting;
Adjusting range: 900-1250mm;
Thickness of steel panel: 0.4-0.8mm;
Type of forming machine: cantalever type adjustable, with fixed supporting roller in the middle;
Diameter of roller shaft: φ50mm;
Specification of drive sprocket: 1 inch;
Drive device: pinwheel cycloid reduction box;
Station: 20 stations
PU Sandwich Panel Line
Roll Forming Machines
Sandwich Panel Line
3D Wire Panel Line